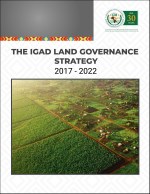 The IGAD Land Governance Strategy is derived from and guided by the overall IGAD Strategy. It however specifically provides a comprehensive and coherent framework aimed at guiding IGAD programmes in the area of land governance. The development of this strategy was complemented by the previous one whose main focus was environment and natural resources; and by others that addressed issues of peace and security, food security, gender, etc. It also tapped into relevant regional and international development processes, conventions and agreements.
In preparing the strategy, IGAD has embraced and employed the principles of ownership, participation and partnership. With this in mind, the consultant visited all member states except the Republic of Somalia, South Sudan where safety conditions could not allow, and Eritrea whose membership to IGAD is currently under suspension. However, the consultant ensured that consultations were made with technical experts from these three countries. The Consultant also involved the IGAD staff and development partners in preparing the Land Governance Strategy.
IGAD Regional Strategies
IGAD Regional Strategy - Volume 1 - The Framework
IGAD Regional Strategy - Volume 2 - Implementation Plan
Land Governance Strategies
Read more on folder Land Governance Strategies ...