Area (sq km)

23,200 (total)

23,180 (land)

20 (water)

Pop. (millions) - 2017

0.923 (total)

0.462 (male)

0.461 (female)

Econ. (USD) - 2017

3.64b (GDP)

3,600 (per cap.)

7% (growth)
Djibouti occupies a strategic geographic location at the intersection of the Red Sea and the Gulf of Aden and serves as an important shipping portal for goods entering and leaving the east African highlands and transshipments between Europe, the Middle East, and Asia. The government holds longstanding ties to France, which maintains a significant military presence in the country, and has strong ties with the US. Djibouti hosts several thousand members of US armed services at US-run Camp Lemonnier.
Profiles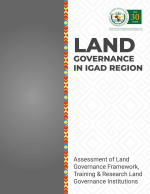 The Republic of Djibouti is located in the Horn of Africa between longitudes 41°8 ' and 43°4' E and the latitudes 10°9 ' and 12°7' N. It is bordered to north by Eritrea, to south-east by Somalia and to the west by Ethiopia. In the east, the country benefits from a seaside coast divided between the Red Sea and the Gulf of Aden and which extends on more than 372 km. It covers a surface area of 23 200 km² and has an estimated population of 900 000 people according to the United Nations Development Programme (UNDP, 2014), growing at 2.9% per annum. More than 70% of the population lives in urban areas, with nearly 60% in the capital and about only 16.3 per cent of the population lives in the rural areas.
The country is divided into five regions: Ali Sabieh, Dikhil, Obock, Tadjourah and Arta. The city of Djibouti has a special status. The biggest part of the land is pastoral and agricultural lands account for only 0.5% of the country. Djibouti has only 10,000 hectares of arable land, of which 1,000 are cultivated. Some 9.5 per cent of the land under cultivation is irrigated. Half of the arable land is in the north; the majority of crops are grown in the south, however, mainly in the districts of Ali-Sabieh, Dikhil and Djibouti. There are around 1,600 farms in Djibouti, employing an approximate total of 3,600 people. The average area of farms is one half hectare
Read more on folder Profiles ...