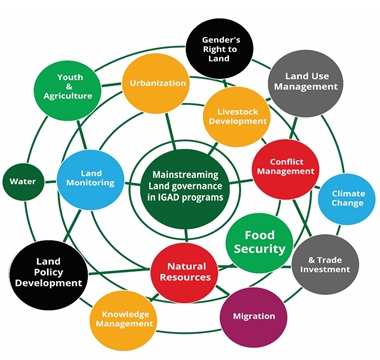 The core values of IGAD, its mandate derived from the AU Declaration on Land Issues and Challenges and the established practice areas continue to commit IGAD to provide for effective mainstreaming of elements of land governance into all areas of policy, programming, and operations. IGAD recognizes the poor land governance-poverty nexus as impacting on strengthening resilience and ending hunger in the IGAD region. IGAD can be proud of pioneering activities in land governance mainstreaming in its programs. The efforts and experiences so far generated in implementing the LPI-IGAD land governance program with the support of the Swiss Development Cooperation(SDC) and the considerable achievements obtained to date provide a solid in-house basis of best practice within the IGAD Secretariat to develop the strategy for mainstreaming land governance in IGAD policies, strategies, and programs.
Analysis IGAD programmes and projects reveal that land governance has not been adequately mainstreamed within IGAD. The Agriculture, Livestock and Fisheries policy makes reference to land governance, however, no mechanisms for its implementation are elaborated. The IGAD CAADP- Regional Agricultural Investment Plan recognizes land governance as a key constraint to achieving food security. Furthermore, the Natural resources strategy recognizes the centrality of land governance to natural resource management. These provide entry points for mainstreaming land governance in programs.
IDDRSI provides an opportunity to integrate land governance in its implementation in a bid to strengthen the region's resilience to the effects of drought. Furthermore, an opportunity exists to mainstream land into migration, infrastructure development projects, peace, and security as well as work on pastoralism.
Human resource capacity on land governance is weak within IGAD. Except for the land expert, there are no adequately trained and skilled persons within IGAD on the subject of land and land governance. Capacity development remains a key entry point for mainstreaming land governance in IGAD.
Mainstreaming land governance is the integration of elements of land governance into IGAD's policies, strategies programming and operations to ensure the coherence and sustainability of our mission and practices. Mainstreaming is a strategy towards realizing improved delivery of IGAD programs through the integration of land governance in its programs and those of its member states. It involves the integration of various elements of land governance into the preparation, design, implementation, monitoring, and evaluation of policies, regulatory measures and programs with a view to promoting broad social economic goals. This must be executed within the mandate of IGAD within the mandate of IGAD as a Regional Economic community and as stipulated in the AU Declaration on Land Issues and Challenges in Africa.
Read more on folder Mainstreaming Land Governance ...