Area (sq km)

637,657


627,337 (land)

10,320 (water)

Pop. (millions) - 2017

11.57 (total)

5.74 (male)

5.83 (female)

Econ. (USD) - 2017

17.47b (GDP)

1,510 (per cap.)

2.4% (growth)
Despite the lack of effective national governance, Somalia maintains an informal economy largely based on livestock, remittance/money transfer companies, and telecommunications. Agriculture is the most important sector, with livestock normally accounting for about 40% of GDP and more than 50% of export earnings. Nomads and semi-pastoralists, who are dependent upon livestock for their livelihood, make up a large portion of the population. In recent years, Somalia's capital city, Mogadishu, has witnessed the development of the city's first gas stations, supermarkets, and airline flights to Turkey since the collapse of central authority in 1991.
Profiles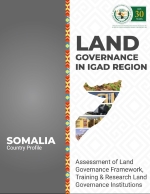 After the fall of the Siad Barre regime in 1991, the Somali Republic splintered into three autonomous regions: South-Central Somalia, Somaliland, and Puntland. South-Central Somalia lacked a formal government from 1991 until August 2012. The appointment of the new federal government in 2012 is encouraging, and the new administration has made many commitments to passing legislation and policy to ensure a stable nation state governed by the rule of law. However, they too have lacked the capacity to draft, pass and implement legislation. Somaliland has functioned independently since 1991, and formally voted to succeed in 2001, though their sovereignty is not recognized by any country.
Somalia occupies a land area of 637,540 square kilometers and only 13% of Somalia's land is arable, of which only 8% has been cultivated and 98 % is made up of rangelands. Livestock production is the primary economic activity in the country, comprising approximately 50% of the gross domestic products and more than 80% of the export revenue. About 55% of the national population participates in nomadic pastoralism and 80% is engaged in livestock raising of some kind. The use of land for grazing plays a crucial role in the lives of people and the economy in Somalia, since roughly 55% of the Somali population is pastoralist. It is estimated that a population of roughly 8,050,000 people.
Read More on folder Profiles...